Choosing the Right Natural Stone for Your Next Project
September 29, 2015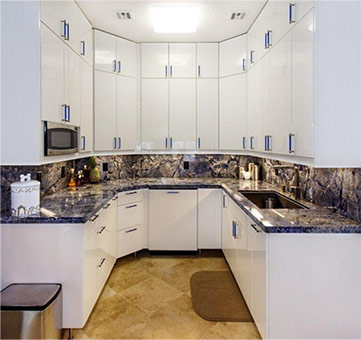 How to sort through the many beautiful, timeless and eco-friendly choices of natural stone.
Whether you're a homeowner, interior designer, architect, contractor, developer, kitchen remodeler or a custom home builder, choosing natural stone offers you an incomparable level of versatility and originality as well as the opportunity to create something that cannot be duplicated. Created by nature, natural stone is truly unique and one-of-a-kind.
Virtually every homeowner and trade professionals is aware of the movement toward materials that are eco-friendly. The fact that stone is a naturally occurring element that provides incomparable durability only makes this natural material that much more appealing and sought after.
The key to using it well, in the right places throughout your design or building project, and maximizing its beauty and effectiveness is understanding the strengths and weakness of each type of stone. It's also critical to understand what makes the perfect slab and what to look for when choosing natural stone. This brief guide details several of the most popular natural stone types  and how they are best utilized in home design and décor.
Marble
Known for its elegant and luxurious appeal, marble is as durable as it is beautiful and makes a great stone for walls, floors, vanities, backsplashes and bathtub decks. It's softer than granite and more susceptible to staining, so if used for kitchen countertops, it's essential to keep marble properly sealed and maintained to avoid discolorations.
Marble comes in a variety of colors, ranging from soft beiges to pinks, blacks and whites, corals, greens and even multi-colors. Just like other natural stones, it can be polished for a glossy finish, honed for a flat or matte finish, leathered or given a satin finish. The best finish choice will depend on where the marble will be installed, the required functionality and what mood you're trying to achieve in your project.
Granite
As a designer or a professional who's building or refurbishing a home, it's highly likely that you've used granite before. More durable than marble, granite is often the natural stone of choice for kitchen countertops because it resists scratches, stains and discoloration. This, coupled with the fact that it's one of the densest of the natural stones, makes it one of the most popular choices for industry professionals.
Aesthetically, granite's wide variety of colors and textures gives the designer and homebuilder the opportunity to provide a unique look for each client. Just like many of the natural stones, granite will enhance the look of any home that you're building or remodeling – whether contemporary, rustic or classic – because of its wide array of options. For countertops in the kitchen and bathroom, bars, dining tables and floors, granite offers limitless possibilities.
Quartz
Quartz is one of the hardest minerals on earth, which makes it a great option for countertops. It's durable, eye-catching and comes in a variety of colors ranging from low-key browns, blacks and creams to bright reds and greens. Its array of colors includes those with specks and veining that add even further to its character and uniqueness.
The new engineered quartz is manufactured in a process that mixes about 95 percent ground natural quartz with 5 percent polyester resins for an extremely hard, low maintenance stone that still has the natural looking appeal of the quarried slab. One of the biggest benefits to designers and others in the trade using this stone is the amount of color options. It's non-porous surface means it never has to be sealed, yet will still be stain and scratch resistant.
Onyx
The natural beauty and uniqueness of onyx offers designers, architects and home developers an opportunity to create a one-of-a-kind look in any project. And because no two pieces are alike, there's virtually no way to exactly repeat the look anywhere else. This natural stone is also one of the most fragile and porous, so it needs to be installed with great attention and using a special process to ensure it doesn't crack or get scratched. An impregnating sealer will help prevent etching and stains.
Because of its distinct translucency, many designers backlight onyx for a remarkable effect. A quartz stone, onyx can be found in a variety of colors including soft white to yellow to red. Years ago, onyx was more often used in the design and building of opulent hotels and fine restaurants, but because of its uniqueness, it is becoming a more popular building material in homes. Applied to create an accent wall, illuminated in a bar setting, used anywhere in bathrooms and vanities, showers, or as a backsplash, there's no denying the stunning beauty of this natural stone.
Travertine
Travertine is a favorite in the industry for its diverse look and durability. Because it is actually limestone, it is important to keep in mind that travertine is extremely porous and therefore it usually has many visible holes. Of course, you can have the holes filled in if you're trying to achieve a smooth look.
Travertine can be finished in various ways, allowing you to use it to create different looks throughout your design. Whether choosing a polished, honed, brushed or tumbled finish, travertine is available in many different colors that range from cream and ivory to golden brown. Popular uses for this natural stone include bathtub and fireplace surrounds, vanity tops, shower tiles and floors.
When choosing natural stone, it's important to consider where it will be used, what visual impact you're trying to achieve and the different strengths and weaknesses of the stone as it applies to care, cleaning and durability.
For passionate, expert guidance when choosing natural stones for your next project, contact Nature of Marble or visit our Delray Beach showroom to view our rare and exotic natural stone slabs in a clean, covered, comfortable environment.