Having a Front/Backyard renovation?
May 19, 2017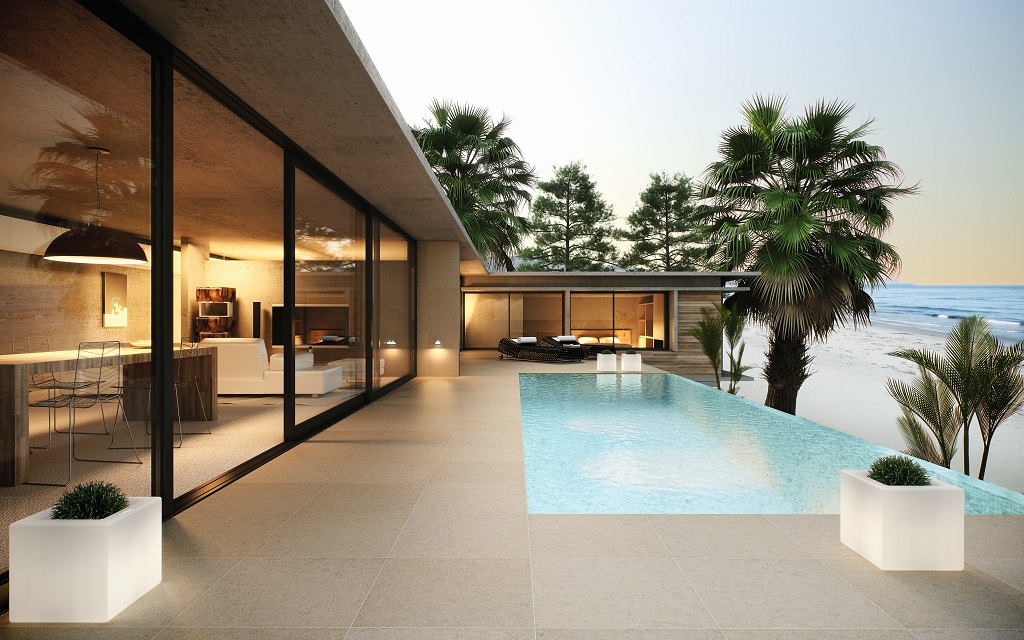 Ever consider renovating or redesigning your front or back yard?
Before starting, you need to pick out the "right" tile. The options are almost endless.  However, your major concerns should be on deciding if you want a man-made or natural stone and the tile's thickness.
Why does "thickness" matter?
No matter what material you choose, thickness of the tile must be considered. If you are using a sand set, the best thickness for a tile is 3 centimeters (3 cm).  A thicker tile makes up for the instability of a "sand base".  Tile that is very thick is referred to as a "paver". If you choose a thin tile, you increase the risk of tile breakage due to the uneven base of a sand set.
However, when using a "mud set" (concrete) any thickness can be used. Why? When applying concrete, it can be shaped and leveled perfectly.  Once dried, concrete has a strong "stable base" that allows you to put anything on it. With a mud set, people usually use a thin tile to save money.  A thicker tile, as you might guess, is more expensive.
What's the difference between man-made and natural tile?
Now that you know the basics, it's time to know the difference between natural and man-made tile. When it comes to man-made tile, porcelain tiles are the best for outdoors. Porcelain is great against stains, mold, water damage – you name it! They come in multiple colors and various sizes, with a rough surface to prevent slip and falls. The downfall is that they come a little pricey and you won't get that "natural" look!
In terms of natural stone, there are advantages and disadvantages. Natural stone tile holds up well for outdoor areas too.  However, maintenance, every few years, is required to keep the material in good shape. On the positive side, natural stone comes in more colors and textures. On average, the prices for outdoor natural stone tile is cheaper than porcelain tile. 
When does color matter?
Now the next characteristic in choosing outdoor tile is color.  People with a more modern house décor, usually go with a darker tile – gray or dark brown. Whereas, people with a classical taste, usually pick lighter colors – white or beige.
Will any design do?
There are three major options when selecting a tile's design – French Pattern, jumbo French Pattern, and the traditional tile.
In French Pattern, different sizes of tile are put together in a fixed pattern -allowing variations of sizes to be displayed in one's backyard. The jumbo French Pattern is the same except the individual pieces within the pattern are larger than the pieces of a regular French Pattern.  On the contrary, the traditional tile has "one size" tiles in its design – such as 24 inch by 24 inch tiles. Shown in the picture above is an example of how an outdoor space would look if using traditional tile. This design is mainly used in contemporary style homes.  These three tile design types are the most commonly used for an outdoor area.
Too many decisions?
No worries!   Nature of Marble to the rescue!
Our experienced staff can help you with all of these decisions.  As a wholesaler, we offer a wide variety of products in our Delray Beach showroom – tile and pavers.  We can help you choose the best color for your outdoor area – one that will provide a timeless look and make your outdoor area more enjoyable for many years to come. At Nature of Marble, not only do we help you pick the right color, we can also help you choose the tile design that will help transform the ambiance of your yard.