We're Ready to Remodel, But Where Do We Start?
December 10, 2015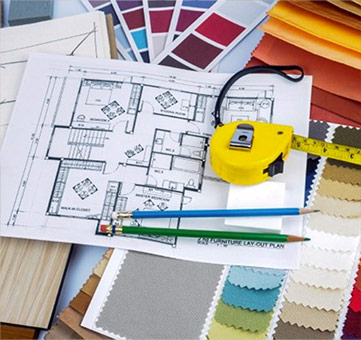 While Nature of Marble works directly with interior designers, contractors and installers, we believe homeowners should understand and be involved in the creation of their new home
A home renovation project can be exciting and a little overwhelming. With some research and organization though, your project can be a satisfying experience. To create the home you want to live in and increase the value of your property, follow these guidelines for a remodeling plan that puts you in the drivers' seat.
Set your goals and organize
No matter the size of the project, decide what your goal is and be as specific as possible. Primary considerations are design, materials and budget.
Create a Project Book or bin, then collect pictures, magazine articles, material samples and notes about designs that have captured your attention. This way your vision can be easily refined and also conveyed to partners, contractors, designers and installers.
Browse through showrooms and consult with material suppliers. They are great resources to advise you on the right products and installation ideas to achieve your goal.
Take measurements and draw up simple plans to see if your ideas will function in your space. There is design software online that can help. These basic drawings can be shared with your contractor, interior designers and material suppliers so that they understand your ideas.
Establish a time frame for the project beginning and a completion date that works with your life. While things may not always go as planned, it's better to avoid unnecessary stress by being in the middle of a kitchen renovation during the holidays, for example.
Check into your homeowner's insurance and investigate the potential impact of your renovation project with your broker.
Benefit from the experience of others by exploring the many sites, boards, and chat rooms available online. There are often issues or considerations we can't anticipate, but reading about others' experiences can help you avoid time consuming issues and costly mistakes.
Budget
Once the scope of the project is established, determine how much you want to invest in your renovation. Is this a re-sell project, a quick fix or your dream home that you plan on living in for the rest of your life? These factors make a difference in what you may be willing to invest.
Get estimates from your contractor if you have one, or gather all the data yourself. Be as thorough as possible, again, using online resources to eliminate potential surprises.
If you are financing your renovation, speak to your financer about pre-approval and make sure you can afford the payments.
Remember that increasing the size of your home could mean a corresponding increase for insurance, utility and maintenance costs.
Check the value of homes in your area to stay in alignment with the range of current prices.
There can be surprises when you get into a renovation, so consider factoring in an extra 10-20 percent so that unanticipated problems don't de-rail your project.
Select a contractor and get estimates
Selecting the right contractor to manage your remodel is KEY and can make or break your project.
Compile a list of contractors. Speak to friends, family and acquaintances for recommendations.
Check sites like Angie's List for consumer ratings and reviews of the contractor you are considering hiring.
Inquire about the contractor's specifics including insurance, bonding, permits and licenses.
Look at the contractor's other projects and remember to ask for and verify references.
Provide your contractor with the plans, materials list and project book for an estimate. Review the estimate in detail with your contractor and ask every question you can think of before you sign a remodeling contract.
Remodeling contracts
A remodeling contract is a 'must-have' because it will clarify what is expected of both parties.
Budget overages usually occur as a result of numerous 'change orders' or changes from the plans and materials as outlined in the original contract. Taking time to be thorough now can save you time and money in the long run.
Consult with an attorney, if necessary, to make sure that you have a fair contract. Here is a list of what your contract should cover:
1. Project description
2. Permits, licenses and inspections
3. Payment amounts and due dates
4. Project start and end dates
5. Insurance, property damage and liability
6. Warranties and guarantees
7. Lien waivers and release
When you and your contractors and designers have agreed on the materials you'll need, view our inventory and come hand-select your natural stone surfaces from Nature of Marble's exotic collections in our pristine, Delray Beach showroom. Each slab is hand-selected by owner/expert Hass Sweid, who travels the world in search of the rarest, most exotic natural stones.